So how does my garden grow? very well thank you.  As promised, here are photos of my Patio Jungle.  The Tilapia are doing well and the plants are doing very well.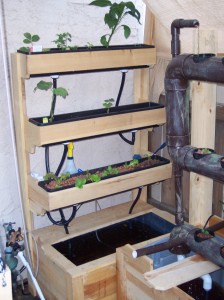 The second tank design (at the back) as it looked after transplanting the starters into the grow bins.  The tanks utilize a 160 GPH pond pump.  The aerator has a dual output so it supplies air to the fish in both tanks.  The timer is a cheepie mechanical dual outlet type.  During the day the water is pumped for 15 minutes every hour and 15 minutes every hour and a half at night.
This is the first design.  After building the PVC beds, I decided on the newer design.  However, the PVC grow bed has done surprisingly well as the next photo will show.  It also seems to be the least expensive design.  I have some new ideas regarding the PVC design.
I have since moved the growing stands to a new location on the patio.  Both growing systems have taken off.  The lettuce has done well but looks dwindled because I clip off leaves when I make sandwiches for work in the morning.  It is hard to tell from this photo, but the vine plants have just exploded.  There are two types of tomatoes, squash, black watermelon and Mexican watermelon, the small round ones and two bell peppers.  All have flowered and are starting to fruit.
I planted a garlic clove in soil and one in the Aquaponic grow bed.  The one in soil has some sprouts, but the one in the Aquaponic grow bed is almost 12 inches tall.